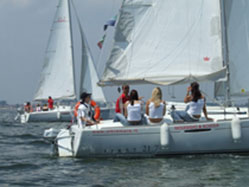 From the modern tourist Marina degli Estensi we can conveniently sail through Comacchio Coast on board of Oltre Mare Sailing School sailboats. Under the expert guide of our sailing instructors you will learn how to steer a boat. Live a fantastic sailing adventure with us!
Booking needed!
Duration: 3h from 2:30 PM to 5:30 PM, every Tuesday and Wednesday
Price: 35 € for adults – 20 € for children (5-12 years-old)
You will meet your sailing teacher at: Marina Degli Estensi – Via Fortuna Maris, Lido degli Estensi
Other: we suggest to wear comfortable clothes, and to bring a waterproof jacket as well as some sun cream.
Info & booking: info@oltremare.it • +39 800 19 53 53
Comments
comments